With the announcement that Gary Neville has taken the Head Coach role at Valencia, we take a look at 5 other British men who have taken the plunge and discuss whether they've been a success or a flop in La Liga.
David Moyes: 
Moyes should never have left Everton. His career has gone down the pan since leaving the Toffees in 2013 to manage then Premier League champions, Manchester United. After a frustrating year, the Scotsman was fired and the reds finished the season in 7th place. His time at Real Sociedad was no happier, with a win percentage record of 28.57%, it could be suggested that Moyes was out of his depth, therefore he was fired in November 2015.
Games in Charge: 42
Wins: 12
Trophies: N/A


Ron Atkinson:
Atkinson is another ex-Manchester United manager who went on to manage in La Liga. In October 1988, Atlético Madrid came calling for the Scouser, however, Big Ron's dream move to Spain quickly fell through after falling out with the club's president, Jesus Gil. He lasted only three months.
Games in Charge: 12
Wins: 6
Trophies: N/A


Howard Kendell:
The late Everton favourite took charge of Athletic Bilbao in 1987. In his two season at the Basque-based club, Bilbao ended up in 4th and 7th place, however, at the start of his 3rd season in charge, things started to go pear-shaped, with a new President in charge and with the transfer policy of Basque-only players at the club, Kendall struggled and left the club, joining Manchester City shortly after.
Games in Charge: 102
Wins: 44
Trophies: N/A


Terry Venables:
'El Tel' was a surprise choice for the Barcelona job in 1984, however, he proved his worth by winning the Spanish league in 1985 and leading his team to their first European Cup final in over 25 years – although they lost on penalties to Steaua Bucharest. After failing to win the league again, he was fired in 1987.
Games in Charge: 75
Wins: N/A
Trophies: La Liga Champions (1984-85)
Copa de la Liga Winners (1985-86)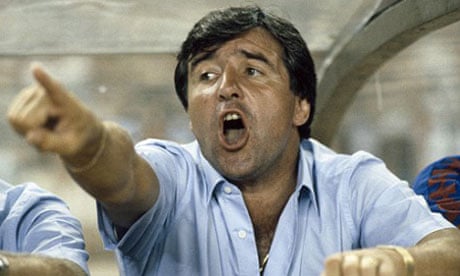 Sir Bobby Robson:
The late, great Sir Bobby Robson is loved throughout the footballing world for his distinct style of managing. Having taken charge of a variety of club in Europe including PSV Eindhoven, Sporting CP and Porto, the ex-England manager took charge of Spanish giants Barcelona. He was only in charge for one season, however, he managed to win the Copa del Rey, Supercopa de España and European Cup Winners' Cup.
Games in Charge: 58
Wins: 38
Trophies: Copa del Rey (1996-97)
Supercopa de España (1996)
European Cup Winners' Cup (1997)


There is no evidence to suggest whether Gary Neville will be a success at Valencia when looking at previous British managers in La Liga. Some have done extremely well and are now adored at their previous clubs, and some would rather forget they have ever visited Spain. Valencia do have a good squad, which bodes well for Neville, however, if you are expecting him to be able to overhaul Real Madrid and the red-hot Barcelona team destroying everyone in their path, you may need to take a step back and re-evaluate your thought process!