December 2004 – Stubs a cigar out in the eye of young Manchester City player Jamie Tandy during the club's Christmas party. Forced to pay 8 weeks wages and £65,000 to Tandy for damages after being fined by the club and sued by the youngster respectively.
July 2005 – Attacks a 15-year-old Everton fan in Bangkok during a pre-season tour; fined 8 weeks wages by Manchester City after being found guilty of gross misconduct.
May 2007 – An altercation with team-mate Ousmane Dabo, leaving the Frenchman needing hospital treatment sees Barton suspended, and a year later given a four month suspended prison sentence as well as a 12 match ban and £25,000 fine by the FA.
May 2008 – Jailed for six months after being found guilty of assault and affray.
May 2009 – Suspended by Newcastle United after an argument with manager Alan Shearer following his sending off against Liverpool.
November 2010 – Banned for 3 games by the FA after punching Blackburn player Morten Gamst Pedersen during Newcastle's 2-1 defeat.
May 2012 – Banned for 12 matches and fined £75,000 by the FA after elbowing Carlos Tevez, kneeing Sergio Aguero and trying to headbutt Vincent Kompany on the final day of the season after being sent off. Subsequently gets stripped of the QPR captaincy.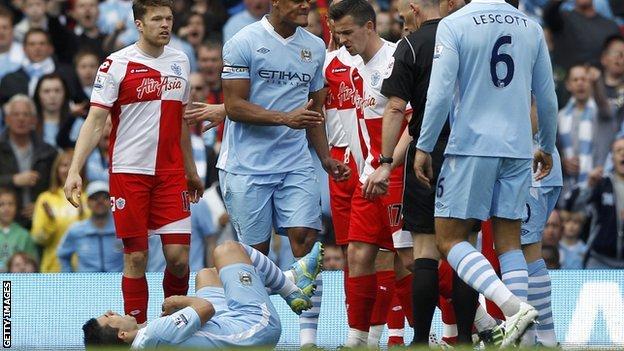 April 2013 – Banned for 2 games after calling Paris Saint Germain defender Thiago Silva an 'overweight ladyboy' on Twitter whilst playing for Marseille.