5. Wilfried Bony (2015 -Swansea City to Manchester City) – £28m


Wilfried Bony burst onto the scene at Swansea City, impressing in a series of physical attacking displays, showing his knack for scoring goals, as well as his technical ability on the ball. These attributes attracted the attention of Manchester City, and, after courting him for a couple of weeks, he joined the ranks of world-class strikers at the Etihad. Featuring in 33 games, largely from the bench, Bony has scored 10 goals for City, which, all things considered, is not that bad a goalscoring record.
4. Edin Dzeko (Wolfsburg to Manchester City) – £32.5m


Dzeko was Wolfsburg's highest ever goalscorer when Manchester City came sniffing about. After continuing to impress for the German outfit, City decided to make the move and snapped him up for £32.5m. After scoring 72 goals in 189 appearances, it is fair to say that Dzeko is not short of talent, however, City deemed him surplus to requirements and was allowed to leave for Roma.
3. Andy Carroll (Newcastle United to Liverpool) – £35m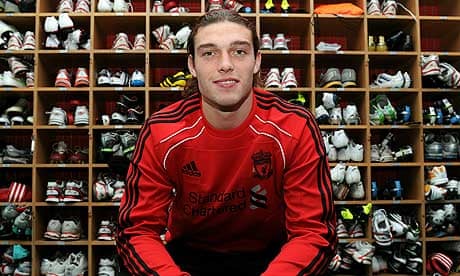 After becoming the most expensive Englishman ever, Andy Carroll had a lot of pressure on his shoulders, too much pressure seemingly. After an incredibly disappointing spell at Anfield, Liverpool allowed him to join West Ham United on loan, which eventually turned into a permanent deal. There is still time for Carroll to rejuvenate his career however, he just needs to get over his constant battle with injury.
2. Juan Mata (Chelsea to Manchester United) – £37.1m


Juan Mata was always a fan favourite among Chelsea fans, and was voted as Chelsea's player of the year for the 2012/13 season. However, after Jose Mourinho took charge of Chelsea for the second time, the Spaniard found himself consistently on the bench, struggling for playing time. Mourinho agreed to David Moyes' advances for the playmaker, and, despite not being at his best for United, he is most definitely a fan favourite.
1. Fernando Torres (Liverpool to Chelsea) – £50m


The Spaniard was somewhat of a flop at the Premier League heavyweights, especially after his incredible goalscoring feats for Liverpool. However, he will be remembered for his goal against Barcelona in the last minute of the Champions League semi-final in 2012 that got Chelsea to the final, which they went on to win. Overall though… it was £50m which was not very well spent.